EPS-Deck Concrete Deck Forms
With over 30 years experience in designing EPS Concrete Slab Forms, the Legalett team believe they have created the ultimate lightweight, concrete deck forming system, manufactured locally across Canada and the USA for environmental and cost advantages, and with a host of noteworthy speed, strength and cost benefits for concrete deck installers and contractors.


EPS-Deck Concrete Deck Forms, the Ultimate Concrete Deck Forming System, by Design
EPS-Deck was developed to create a more efficient and builder friendly way of erecting a suspended Insulated Concrete floor. Manufacturers of these types of floors have been around for 20 and 30 years which gave us the opportunity to see areas where improvement could be made. This helped shape the overall design bringing items such as integrated mesh support track that also seals against concrete bleed water drip and integrated rebar chairs into the finished EPS-Deck product. These time and cost saving features of the EPS-Deck concrete deck forming system set us aside from all other deck forming products and so it was decided to include them with every EPS-Deck form at no additional cost.
EPS-Deck Concrete Deck Forms - Better by Design:
Rebar chairs included, save time and money - EPS-Deck includes pre-fitted Rebar Chairs integral to the design.
Mesh supports included, save time and money - EPS-Deck has integrated mesh support track built into its design.
Variable Panel Thicknesses, save time and money - EPS-Deck comes ready to build in any thickness from 6" to 15".
Two Panel widths, saving waste and making assembly quicker - EPS-Deck comes in panel widths of 2' or 4' to suit the project.
Optional 3" Exposed Steel Stud tails , saving waste and time - EPS-Deck is pre-designed for bearing on a steel beam.
Accessory products are also available which include:
Optional PEX/Mesh track for the installation of PEX pipe for radiant heating and the necessary wire mesh support
Beaver Tail shear forms which can eliminate shear stirrups in spans up to 34'.
​

The floor panels come in widths of 2' and 4' and have a 6" wide beam every 24" o.c. During manufacturing a sturdy 18ga. 3 5/8" steel stud is inserted and mechanically fastened to the panel using a #14 self-tapping screw and EIFS washer down the length of the panel every 4' o.c. The steel studs are used to help support the floor during concrete placement as well as for furring attachment afterwards.
Integrated steel studs include EPS-Deck's "Ceiling Lock" which is a built-in tie back to the concrete floor when spans reach 20' or more. Panels are custom made from Type 2 EPS to any length and come in any thickness from 6" to 15"
EPS-Deck is partnering with manufacturing locations across the country to share ideas and technology to keep the best ICF Flooring system continually up-to-date. Manufacturing close to all markets throughout North America cuts the landed cost of an insulated floor, makes for faster delivery turnaround, and reduces EPS-Deck's carbon footprint. Typically 5-7 days is all that is required once an order is received for production and delivery.
A superior Legalett air heated radiant floor unit can be added to complete the system.
​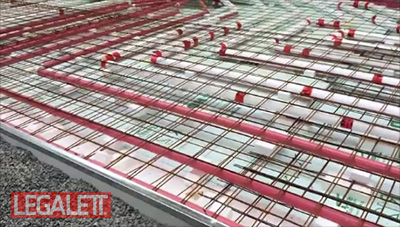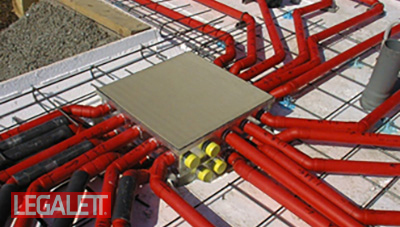 ​Get a Quote forEPS-Deck Concrete Forms
Engineered, Effective, Economical Concrete Deck Forms
All EPS-Deck insulated EPS concrete floor or roof forms are designed to an exacting specification, strong, secure, with rapid, simple assembly on site. Formed from high quality type 2 expanded polystyrene, with steel or wood support beams doubling as furring attachments, and with integrated mesh support track that also seals against concrete bleed water drip and integrated rebar chairs included in the price. EPS-Deck insulated concrete deck forms can also incorporate PEX/Mesh track for radiant floor heating systems – or for the superior Legalett air radiant heated floor slab system.
How it Works
​
​