Our System is That Good!
"Legalett's Frost Protected Shallow Foundation (FPSF) eliminated any unknowns regarding the foundation design and offered many innovative engineering solutions for point loads and low soil bearing values which ultimately saved time and money on our project. I found the technical service and support excellent and would specify Legalett again on future projects."
Jenina Hristova, Designer
Masters of Architecture, Design and Function.
GEO-Slab Advantages:
Simple to Install:
The Legalett GEO-Slab system provides for a faster and more efficient site preparation due to the use of a flat gravel bed. The simple installation of the Legalett GEO-Slab components in the slab also increases installation efficiency. Permanent edging units, which eliminate traditional formwork, allows a short construction time. (See typical Legalett installation)
Even, Comfortable and Healthy Indoor Living Environment:
Due to the Legalett foundation's heat-storage properties, an even stable indoor climate is maintained even when there is a quick change in the weather. Legalett ensures warm and comfortable floors.
The quality of building construction and air changes affect building heating requirements. Modern construction practices together with a Heat Recovery Ventilation (HRV) system and integral in-duct pre-heater offer a very pleasant indoor climate with the Legalett system.
Low Maintenance Cost:
The closed loop pipe system does not require cleaning or maintenance. The air pipes do not have the leakage risks of a water system. There is no limit to the lifetime of the pipe system.
The fan and the heating unit are installed in the closed system with easy access. This allows for ideal operating conditions during the lifespan of the heating unit. Should there be a need for servicing, the unit can be easily repaired or replaced.
Convenient for the Physically Challenged:
The low entry height of a slab on grade and the heated floor make the Legalett GEO-Slab system very convenient for the physically challenged as well as for small children and infants.
Heat during Power Outages:
The heat storage system is advantageous in the event of a power outage. Due to the slab's ability to store energy, it can release its large store of heat over a long period of time.
Faster Construction:
As soon as concrete is poured, a Legalett Construction Heater can be connected to the pipe-heating system. This effectively dries out the slab evenly, a process that can continue throughout the construction period. In addition to extending the construction season, this has advantages for the entire building process. Painting and floor laying can be carried out at an earlier stage than with conventional construction methods. (Traditional building heaters need not be used in cold weather.)
​

Benefits & Resources for GEO-Slab Frost Protected Shallow Foundations:
LEED Points and Legalett GEO-Slab
The energy benefits and minimal environmental impacts that Legalett systems provide play a significant role in construction projects seeking LEED® certification. For complete details download Legalett's LEED® Rating System with Legalett Air Heated Floors and GEO-Slab Foundation System.
Legalett GEO-Slab System Costs Less than Traditional Construction Methods
We've done the research for you, comparing Legalett GEO-Slab to Traditional Construction Methods for Foundation/Floor Heating Systems. Download our Retail Cost Comparison of Legalett GEO-Slab vs other construction methods.
Saves Energy:
Legalett GEO-Slab's use of zone control, thermal mass, insulation and radiant heat, make GEO-Slab the most efficient floor heating system on the market today. Read more in our Energy Savings by Lowering Thermostat Settings with Legalett article.
GEO-Slab is Superior to Hydronic and Conventional Heating:
See how GEO-Slab's Frost Protected Shallow Slab Foundations & Air-Heated Radiant Floor System surpasses Hydronic & Conventional Heating systems in our Legalett Slab on Grade System vs Hydronic & Conventional Heating Comparison Data Sheet.
Eliminates Dampness, Mold & Mildew: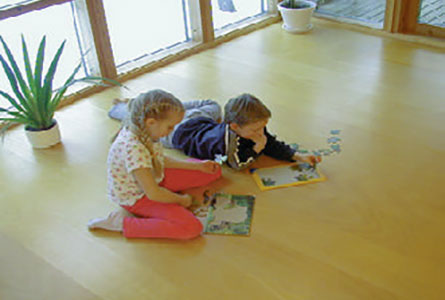 To solve mold and mildew problems, you need to eliminate the damp, cool areas, thus eliminating the breeding ground for mold from the start. Legalett does this by providing heat within the slab and by providing a capillary break between the slab and the ground. Read more here on how Legalett's GEO-Slab System Eliminates Mold & Mildew...
Prevents Radon Gas:
The environmentally friendly Legalett Heated Slab Foundation Construction Technique is a proven effective tool against radon gas. The Legalett System is already recognized as the Radon-Proof Foundation of Choice in Europe. Read more here how Legalett's GEO-Slab System can prevent Radon Gas...
Other Benefits & Resources:
​