Legalett was part of not one but two Award Winning Projects in this year's ICF Builder Awards. Both projects were located in Ontario, one in the Large Residential category and one in the Small Residential category. Both projects utilized EPS-Deck, Legalett's GEO-Passive Super Insulated Slab-on-Grade Foundation System, ThermaSill PH Insulated Thresholds and ThermalWall PH Rigid Wall Insulation.
​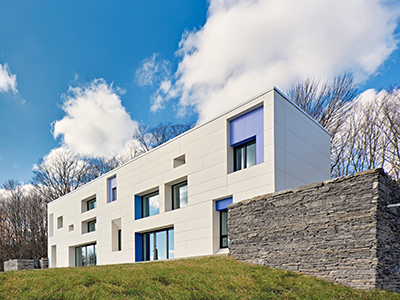 ​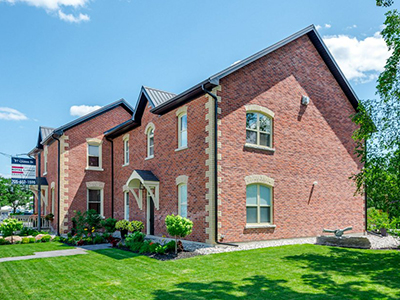 Endymion Guest-House Passive House Project Ontario - Large Residential
​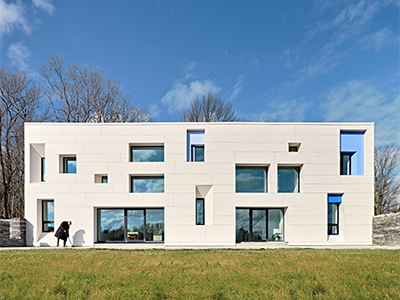 Endymion is part of a country family estate located in Prince Edward County, ON. The vision of this project was that the owners live and entertain in their lake front 'great house' while retaining the opportunity to redirect their guests to their own private quarters in the guest-house. This allows everyone to wake up in their own private zone on the following day.
Endymion will use approximately 90% less thermal energy than a conventional Ontario Building Code compliant residence.
Fast Facts:
3,700 SF, 4 bedroom plus 2 convertible dens, multi-adaptable, multi-generational guest-house
A rural villa, informed by nature, inspired by mythology & built to Passive House Standards
Designed as an all concrete structure for maximum efficiency and economy on three levels
This Passive House can be occupied by one family or up to four different families
R100 roof, R52 wall, R40 under slab insulation with whole house air seal tested to 0.3ACH
South wall 1M deep to create sculpted deep cavity window ports for max solar energy capture
Legalett Products Used:
Project Partners:
Kearns Mancini Architects Inc.
Fox Blocks ICF
Bonwest Limited (GC)
Endymion Guesthouse Passive House Project ON Photo Gallery
​



















Burton Heritage Addition Project Ontario - Small Residential
​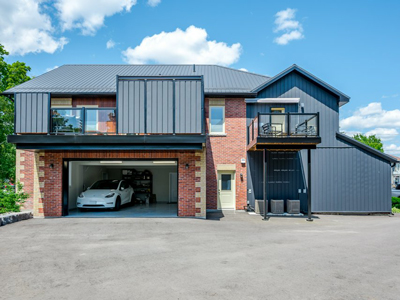 The building was well thought out and made the best use of ICF 16" block heights. The engineer, designer, contractor, homeowner and Legalett collaborated to create the best solutions that would seamlessly marry the 145 year old 2 story brick and wood structure to modern concrete and steel. The cantilevered EPS-Deck with a slope beyond the building for water drainage was expertly installed using epoxy coated rebar. A massive steel beam W21x50, picked up the rear interior loads of the exterior deck and the cast in place heavily reinforced lintel over the garage door picked up the forward loads.
Using Legalett GEO-Slab with warm floors eliminated many design issues related to point loads and attachment to the existing structure. Legalett's unique attributes eliminated the underpinning that would otherwise have been required as well as an expensive drainage plan. Heavy point loads were accommodated by simply removing some of the 6" under slab insulation where needed and adding a mat of rebar.
The homeowners are ecstatic. They love the quiet, no draft environment and warm floors. Finishing early and under budget was a bonus. Calls from the mayors office to congratulate them on a job well done and appreciation for adding to the historic streetscape of the community.
9 weeks and $50,000 was saved using ICFs, Legalett GEO-Slab & EPS-Deck.
Fast Facts:
Addition to an historical home on Main street in the tourist town of Lakefield, ON
Exterior of the addition perfectly matched the roof lines, brick and stone work of the 145 year old structure
A plan for stormwater management was satisfied with Legalett's ICF GEO-Slab providing a continuous and unobstructed drainage plain beneath the building
EPS-Deck for the 2nd floor used infloor radiant heat and incorporating a large cantilevered deck
ICF center bearing wall for fire and sound
More than doubled the sq.ft. and reduced the yearly energy cost by 43%
Legalett Products Used:
Project Partners:
Hideaway Homes Architects
Amvic Building System (ICF)
Towerview Construction (ICF Installer)
Burton Heritage Project ON Photo Gallery
​




















Find Out More on Legalett's Passive House Products here: