Here you will find all of the GEO-Slab Frost Protected Shallow Foundation & Air-Heated Radiant Floor Heating technical and reference materials as found in our Specifier's Guide for Architects and Design Professionals.
​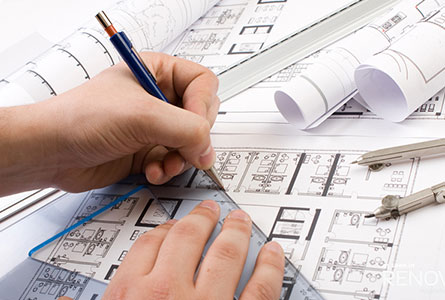 Reference & Technical Materials - Specifier's Guide
Legalett is a building system.
Legalett follows the building process from design to installation.
In contrast to other heated floor systems, we design both the Foundation and the Air-Heated Radiant Floor System as a whole. The migration of dampness and the effects of frost heave are eliminated through proper design.
Due to the unique ability of the Legalett System to eliminate frost walls, construction time and costs are reduced.
Legalett is suitable for detached houses, row houses, townhouses, pre-schools and nursery schools, assembly buildings, industrial buildings – indeed for almost all types of heated floors and foundations.
Legalett can be easily adapted for continuous and semi-continuous permafrost areas.
The Legalett system includes coordinated design of the Foundation and Air-Heated Radiant Floor System
Please find below, the links to the contents of the Specifier's Guide.
1. SYSTEM OVERVIEW
Frost Protected Shallow Foundations (GEO-Slab)
2. INSTALLATION & OPERATION
Typical Installation Instructions
Rough-In for Electrical and Water Supply - 5000
Rough-In for Electrical and Water Supply - 4000
Rough-In for Electrical and Water Supply - 3000
Construction Heater and Floor Finishings
Water Quality Guidelines - For Water Coil Units
Typical Water Coil Heater Installation
Typical Boiler/Heat Pump Installation
Thermostat Control Operating Instructions
Control Operating Instructions Time-of-Use Program for Legalett
3. ADVANTAGES
Legalett Slab on Grade vs Hydronic & Conventional Heating
Structural Slab Design - Normal and Problem Soils
4. CONSTRUCTION DETAILS
8 Inch Heated Slab - Typical Details
5 Inch Heated Slab - Typical Details
Basement / Suspended Systems - Typical Details
Heated Building on Unheated Slab - Typical Details
Unheated Building on Unheated Slab - Typical Details
5. CODE COMPLIANCE
Code Compliance - United States and Canada
6. VENTILATION & AIR CONDITIONING
Ventilation and Building Techniques
HRV/ERV Operation with Legalett
Builders/Architects Guide for Building Heating Requirements when Installing Radiant Heated Floors
7. ADDITIONAL MATERIAL
ADDITIONAL DETAILS
Open Web Composite Suspended Floor
ADDITIONAL READING
Radiant Heat Flooring In Theory and In Practice
(15MB PDF file)
ADDITIONAL LINKS
Legalett Downloads & Resources page (includes links to brochures and the Legalett Way Presentation)